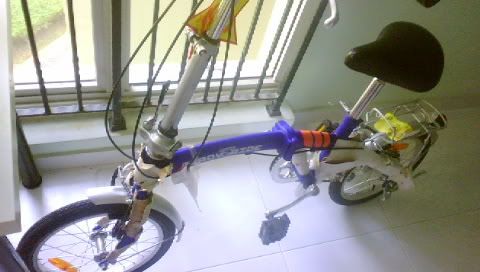 I just purchase another foldable bicycle and this time in IMM near Jurong East Interchange in Giant Super Market.

This bicycle is called Ready2Ride fold-able bicycle with bigger wheels then the last purchase of the fake "A-bike".

I tested it immediately after I reach home by Taxi and yes the bicycle folded and fit neatly in the boot.

I have to admit it's flaws first, the bicycle does not fold elegantly causing it frustrating to new user like me to fold it quickly. Maybe it will need more practice but the size of it may ensure that it will not see it on any MRT or Bus during peak hours.

The plus points are plenty.
The ride is smooth enough for novice cyclist like me
It took the full weight of mine...which is nearly 85kg (It's the truth!! Just weighted!)

Pretty standard gears changing allow me to go uphill although with some effort.
Low center bar makes it easier for me to alight (Females wearing long skirts rejoice)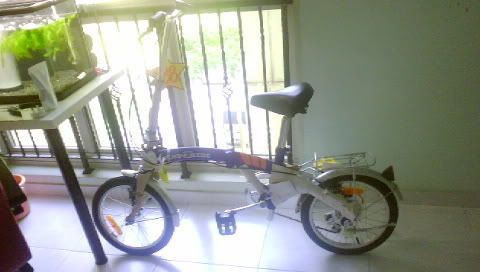 The real test is when I cycled to nearby shopping center (West Mall) from my house to visit a friend. During the whole journey, I encountered 2 chain drops which force me to stop and fix it...dirtying my hands. The seats was not fasten strong enough and it dipped after dropping down a curb, fixed in another round of stoppage.
The usual pain on the ass comes together with most bicycle but this is much better then the fake "A-bike" that had smaller wheels.
Overall, I give it 3.5 Stars over 5 since it served my purpose of cycling to nearby shops and foldable if I need to transport via cabs or MRT/Buses during off-peak hours.
There is another bicycle that I saw in the bicycle shop today that looks like a 'HARLEY" with lower incline back and huge wheels!! That may be my next target...err am I becoming obsessed with buying bicycles? No, because I firmly believe bicycle will be the future of transportation.