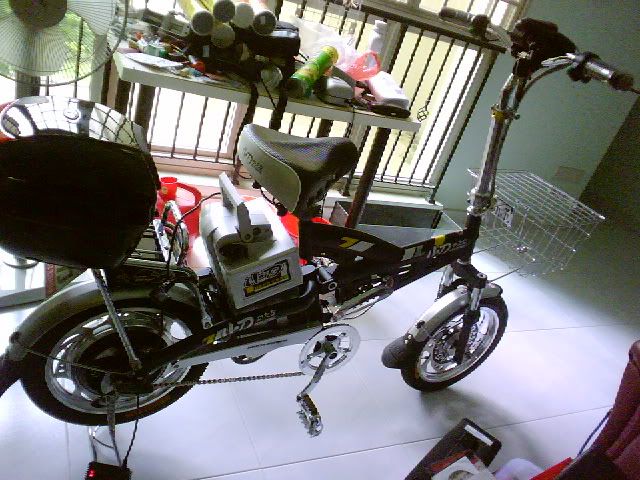 Yesterday was my first day with an electric bicycle!! It is made from China but the design looks uber cool!

This I had been saving up for nearly 3 months and even bought the helmet way back with a matching goggles to go with it! :)

I had used it to travel to nearby bank to deposit a cheque and comes back in time to pay my bills at the AXS Station at Bukit Gombak MRT.

The feeling of total freedom from hard peddling is extremely refreshing! I even heard some chatters by motorcyclist on the road exclaiming in awe that "THAT IS A BICYCLE!!".

The bicycle comes with alarm system linked with motion sensors to prevent any unauthorized "touching", a wheel lock mechanism to prevent anyone from pushing the bicycle away.

I also employ an additional chain lock to deter any kinds of normal thief to have the idea of stealing it.

On top of that, I added a box behind for my "barang barang" (things) storage such as rain coat, chain lock, helmet and any valuables that I felt uncomfortable to put in the basket at the front.

The bicycle is small enough to fit the lift at my home and too heavy for any one person thief to carry it.

The battery also comes with a secure lock so that nobody can extract the batteries without my keys.

The overall feeling is still overwhelming in excitement tingling on my skin....and can't wait for another excursion with my brand new electric bicycle! :)

My next upgrade is a GPS attachment to my PSP (playstation portable) that I think can help me navigate around Singapore.